Challenges
The installed timber structure required a fire rating as it fell into a high risk bushfire zone. The timber noise wall was deemed to be a fuel load risk. A solution that allowed the surfaces to be retained but would also be sustainable for long periods in a harsh environment was required.
Solution
FIRESHELL F1E and F1E HV systems are currently the only exterior grade water-based intumescent coatings suitable for long-term fully exposed applications to timber surfaces.
Proven in the fire testing and weathering labs and in the field when it counts FIRESHELL is setting the new benchmark for protecting combustible infrastructure from fire.
Outcome
Fireshell F1E was spray applied onto the bare timber surfaces, offering a cost-effective and efficient method to both retain the use of timber and achieve the required level of fire resistance. Fireshell does not require a top coat to protect it from weather the custom brown colour used for bridge applications was utilised to achieve a finish that also blended into the bush surroundings.
Product Review
Stywill Texture Coating Pty Ltd was contracted by WBHO to spray-paint & texture the concrete Noise Barrier Walls (12,000m2) along the Ellerton Drive Extension Project in Queanbeyan.
As part of a variation, the council asked for a wooden noise wall to be erected (2350m2) to blend in with the bush-dominated background. The scope asked for an exterior intumescent coating over the 'tongue-In-groove wall, as it was situated in a bush-fire zone.
The most suited system available was the Fireshell F1E coating through EXFIRE.
We applied the Fireshell, in two coats on-site, using petrol-powered airless spray units, with no problems whatsoever.
Being a water-based product, it was so easy to work with if you have the correct gear to apply it.
Blair Hamilton
Director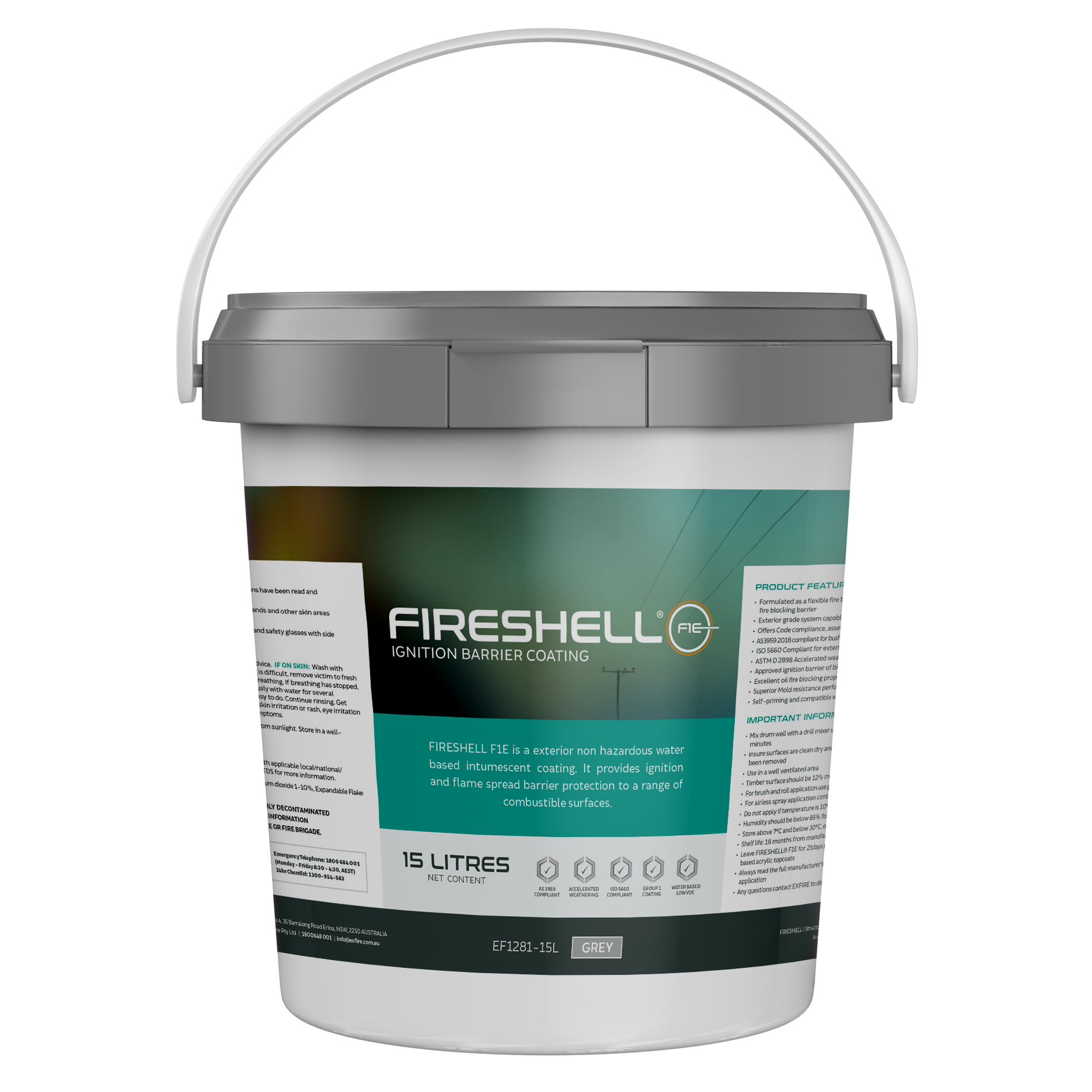 Fireshell® F1E
Fireshell® F1E is an exterior, waterborne, non-hazardous, self-priming, flexible intumescent coating.
It provides an ignition and flame spread barrier on external combustible surfaces. Achieves AS3959 bushfire resting timber compliance including accelerated weathering compliance for softwoods BAL12.5, BAL19 & BAL29. ISO 5660 compliant for external timber cladding and a range of risk reduction solutions for external combustible surfaces.

Buy Fireshell® F1E